What kind of turbo engineer are you?
Do you like to test an actual turbocharger on an engine or are you more into making advanced computer simulations behind the screen?
We have more than 10 different kinds of turbo engineering positions to choose from: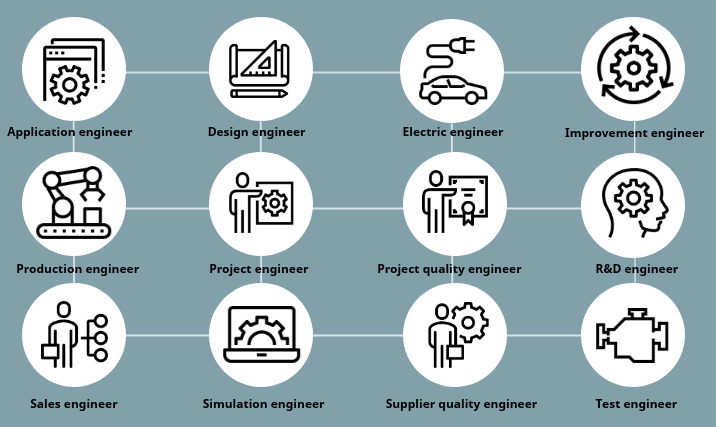 "Our company is very dynamic and very international from every aspect, whether we're talking about business partners or its employees, both giving you the chance to learn and work within a multicultural environment.  I started working within the Quality department 5 years ago as Project Quality Engineer. During this time I was able to develop myself horizontally becoming more knowledgeable (interacting with different customers, suppliers, cross functional departments, traveling, auditing) and vertically by getting promoted to Lead Project Quality Engineer which helped me further to my current positon as Team Leader (developing my leadership skills)."
"Working at MTEE for nearly 5 years has given me a lot of possibilities for widening my experience as a Quality Specialist. MTEE is a very mature organization with a developed structure, which gives a lot of opportunities to grow even within one department; I started as a Project Quality Engineer, then changed to Supplier Quality Development Engineer and currently I am holding a position of a Team Leader of Warranty and Service Team, which is another experience giving me a lot of exciting challenges. A lot various trainings provided within MTEE definitely helped me in making my way to my current function."
"MTEE is a company in which there are great opportunities for development. I started 10 years ago as an application engineer, developed myself further to become project engineer, and today  I am leading my own engineering team of 15 engineers".
"I enjoyed my internship at MTEE so much that I decided to do my graduation project here as well. Even before I got my diploma, I had already signed the contract for a job as an application engineer. What I really like about MTEE is the possibility to use the theory from school, in practice. Also, the fact that we help to make cars better and cleaner make me proud to work here".