© BMW Group
When one turbocharger is not enough 
Mitsubishi Turbocharger and Engine Europe supplies the new BMW M3 and M4 models with its turbocharger technology. The 3-litre S58 engine is equipped with no less than two single scroll turbochargers for added boost for this powerful engine. BMW's TwinPower turbocharged engines have often been applied with a twin-scroll turbocharger, but in this 6-cylinder engine a solution of two single scroll turbochargers was found to be the best match.
Two turbochargers are commonly applied on high-end gasoline engines with a high power output demand. Furthermore, two turbochargers provide better transient response in contrast to for instance one big turbocharger. This is mainly due to the fact that inertia of the rotating assembly is increasing exponentially with each frame size. In this application, one turbocharger is designed for the cylinders 1-3 and a second turbocharger is designed for the cylinders 4-6. The produced boost of both is collected and forced through the vehicle's intercooler to ensure optimal temperature of the air before it is sucked into the engine. These turbochargers are both equipped with waste gate systems (controlled by electric actuators) in order to function separately and correctly.
The S58 turbochargers are designed as single scroll turbochargers for following reasons:
Each turbocharger is being fed by 3 cylinders which is not a nice multiple of 2 cylinders, which are normally separated in a twin scroll design
Combustion order of the engine already ensures the exhaust gas pulses are fed to turbochargers as efficiently as possible
Turbine housing design is not too large such that pulse energy is lost due large internal volume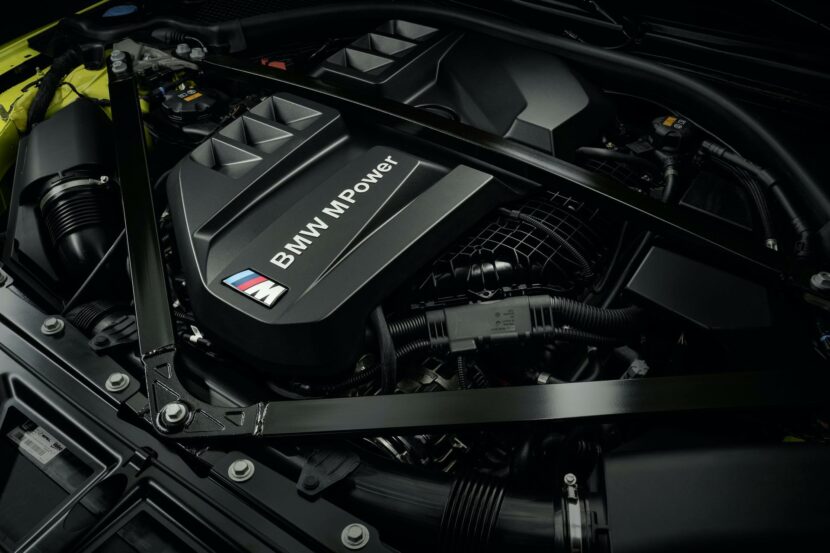 © BMW Group
Sporty driving
The M3 and M4 cars come in 2 output variants, normal and competition. The normal will have 480hp with 550Nm torque and the competition will have 510hp and  650Nm torque. This will move you from 0 – 100km/h in 4.2 seconds. The competition model will do this in 3.9 seconds.
An additional feature for the racing enthusiasts is that the M3 and M4 cars come with the "M Drift Analyzer". This function will measure your drift when you throw the car sideways.  The car will also rate your drift from 1 to 5 stars and store these in the system so you can show off to your friends.
Whereas the general movement is going towards automatic transmission, in the M cars one can still opt for manual transmission. Manual transmission comes with a six-speed  gearbox and for automatic it comes with an eight-speed M steptronic transmission.
BMW M GmbH was founded in 1972 as a business unit for the sporty products of the BMW brand. The cars are often used in European race competitions, but also used on the streets by powerful engine lovers. The M3 and M4 will be on the market in march 2021.